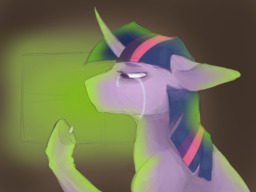 Source
Twilight Sparkle is a creature of habit. To her, perfection is found in the familiar: best friends, comfort food, and wholesome, everyday fun.
Unfortunately, even the simplest equation has unexpected perturbations. Can Twilight ever regain the lost familiarity of her daily routine?
---
Written for the "Here at the End of all Things" (sic) Writeoff.
"The Same" (cover art), by dragon discord, was part of the art competition and inspired by this story.
Chapters (1)