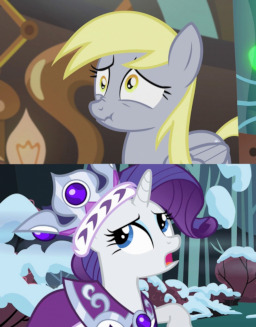 Some ponies start off a long way along the racetrack before the flag is waved.
Some ponies will trip over their own hooves and sprain their ankles on the first lap.
Some ponies get the best teammates to mop their brows and to hold umbrellas over their heads when it rains.
Some ponies don't even want to race. Not when they can have a nice, pleasant jaunt that involves much less sweating.
And some ponies will see, along the way, the truth behind the race. What it's for. Who's taking part. Why they're doing it.
For at the end of the track, everyone gets the same prize. Hearth's Warming welcomes all, whether they come in first or second or even last. The point isn't to win the shiniest medal or to beat the record or to prove who's the greatest racer; it's to make it in time for the celebration. The race is just one more thing to talk about, in a world that's often running faster while forgetting which direction to go.
---
Originally designed as an entry for The Obselescence Memorial Jinglemas Twinglemas Secret Santa Sendoff: Part 2 Edition!
Uses the same specific prompt from DragonGeek: tagged "Rarity", tagged "Derpy Hooves", rated "Everyone", no romance.
Chapters (7)