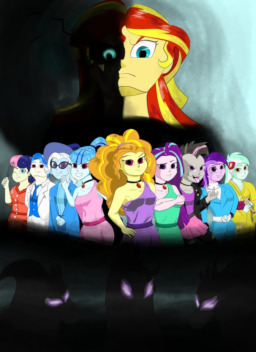 In a parallel world, Sunset Shimmer had escaped her studies in Equestria and aligned herself with the evil Rainbooms of the other side. They now stand the mightiest in Canterlot High School, and no one is able to stand up to them. Their deception and manipulation to the staff keeps them on top, along with another hidden power.
But three new students seem to have these Rainbooms invested, and something about them just seems a bit off...
A special thanks to Bricklayer, and all of you for supporting this story and keeping it going.

Artwork done by Gpizano. Go check her work out, she's amazing!
Chapters (33)