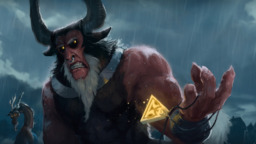 After being banished back to tartarus, Tirek is forced to ponder his fate. His thoughts of becoming the most powerful creature to ever exist and rule what he believes is right start to unravel as he thinks back to the rainbow beam of magic that sent him there.
Perhaps what he tried to do was far more insignificant then he thought and that he would never have succeeded anyway.
This story may be entirely rewritten as the author feels it is badly made but be free to read it as I love responses that are helpful.
Chapters (1)