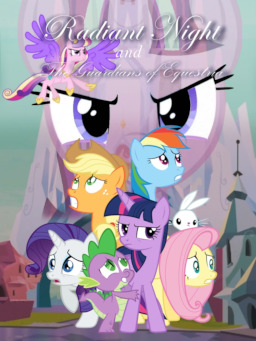 Once upon a time, far away there was a magical land named Equestria. In it, there lived five mares named the 'Guardians of Equestria. They protect ponykind and are loyal defenders of Princess Celestia and Princess Luna, the rulers of Equestria .
Applejack, represents the Element of honesty. Fluttershy, is the Element of kindness. Rainbow Dash, Element of loyalty. Rarity, Element of generosity. And Pinkie Pie, Element of Laughter.
Together with the princesses, they have kept Equestria at peace for years.
However one faithful day, the Guardians are stripped from their status for no apparent reason and have been removed of honoring the Elements.
Rumors spread. Ponies believe that the Guardians have done something atrocious to be removed of such importance. They now have almost the entire population chasing their tails for a crime they did not know they committed. They manage to escape and leave Equestria, as it is not safe for them anymore; They are on a journey to the Crystal Empire, a kingdom where a third princess lives, one of their closest and dearest friends. There, they are safe from the dangers in Equestria. On the way they encounter a pony who has never been permitted outside of her village but wishes to explore the world. the pony, Radiant Night decides to join the guardians on their travel to the Crystal Empire. However, Radiant Night soon finds out that perhaps meeting the guardians wasn't out of luck, and there's more to the story than she thinks...
Chapters (1)