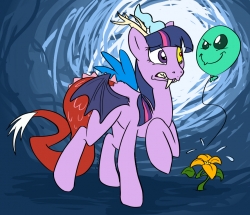 Adventure
---
What if Rainbow Dash had been present when Discord gave the Mane Cast their first shot at him? How could things have gone different? How could this have changed things?How could this have changed Twilight?
Update Schedule Below the Break.
Now with the super editor FredMSloniker!
Now with a wonderful cover image by Conicer!
Also - Awesome Fanart - http://nyuuchandiannepie.deviantart.com/art/Discolight-273099814
Update Plans
December 11 - Edited versions of first four chapters
December 14 - Chapter 5
Future updates at least 1 time per week.
Total Planned Chapters - 12