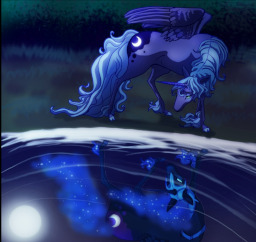 A mare with nothing. A mare with loneliness. A mare of darkness and misery. Shadows, night and gloom is all in her kingdom. Luna cannot stop brooding upon her troubled past. Her sister doesn't understand, being loved her whole life. Luna turns to Twilight for help. However, an unexpected Pegasus intervenes. And finally may Luna let go...

I don't own this cover art.
Rated Teen just in case it's more 'Teen' than 'Everyone'.
Chapters (12)