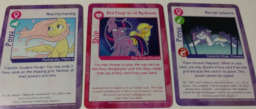 Celestia ruled Equestria for centuries through wisdom, gentle guidance, and an eye on those who rule through less kind means. But above all, she had faith in the power of friendship and harmony.
Right now, she still has the wisdom and the faith. That may just be enough to find a way back to Equestria. Or find love.
Or, at the absolute least, get her new roommate to stop speaking in broken Neighponese.
An entry in the Monthly Contest Club's Crackships for Christmas contest.
Chapters (1)