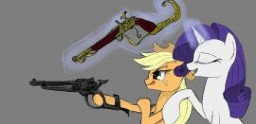 Source
Note: Outside a couple specific chapters, the bloodshed is limited and mostly only spoken of, and the suicide/self harm tag mostly refers to one scene and to a character's ongoing struggle with depression. Links to crisis lines are farther down in the story description and will be in any chapter that deals directly with suicide. Don't struggle alone. You are worth fighting for!
---
Each of Rarity's friends played a role in the Great War, serving with great honor in ending the tyranny of the Griffon Dominion. But Rarity? Rarity stayed. It wasn't her choice. Her friends insisted. And, in all fairness, they were probably right. Somepony needed to stay, and it made the most sense for it to be her.
Still, it never felt right.
Now the war is over, and scarred veterans are trickling back into their communities, surrounding Rarity with reminders of the price paid by her fellow citizens, and leaving her with a mounting guilt over the un-payable debt. So when Applejack asks Rarity to help get a member of her old unit back on his hooves after the war, the seamstress jumps at the chance to do her part. Corporal Iron 'Shoddy' Shod may be a little ... rough of manners for her tastes, it's true, but he's a hard worker, and Rarity is confident in her ability to help him. But when it becomes apparent that Shoddy has more to overcome than just his lack of decorum, Rarity will learn some deep truths about the price that some pay for freedom, and the wounds that don't stop with the flesh.
For it is often said that the hardest battle a veteran faces is the one he fights at home.
---
As this story contains graphic imagery of war, depression, and the struggle with suicide in certain chapters, I am placing a link to the Veteran Crisis line here, as well as links to the national suicide prevention hotline and a list of international hotlines. There is no shame in needing help. In truth, it is courageous to ask for it.
---
This story is set in an alternative universe that picks up after the end of Season 4. Thus, all events that follow Tirek's defeat either didn't happen or happened differently. The specifics will unfold with the story, but for now it suffices to say that the "Princess of Friendship" title became quite intertwined with international diplomacy in this world. Unless otherwise specified, it does not follow the canon of my other works.
Special thanks to MadHotaru for the use the cover image. https://madhotaru.deviantart.com/art/Classic-style-329958227
My Little Pony and its contents are the property of Hasbro, Inc. and its affiliates. Please support the official release.
Chapters (10)