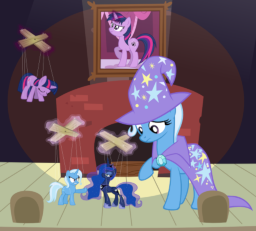 Source
At a fair held in the town of Dappleshore, Twilight stumbles upon something from her family's past and is drawn to investigate. But will she succumb to its sinister influence, and can Trixie and Luna set their differences aside to help her?
The title and certain themes were inspired by the song Filistata by Stolen Babies. The plot is loosely based on The Case of Charles Dexter Ward by H. P. Lovecraft.
This story was updated and improved on June 27, 2013 along with the addition of a bonus chapter. The changes are not massive, but there are a few new details and scenes.
Also available on deviantArt. Featured on Equestria Daily
Chapters (8)