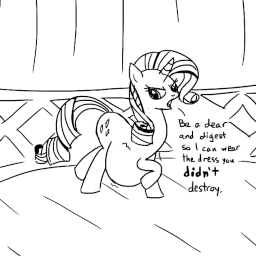 Disclaimer: I suck at writing. I'm not satisfied with this story, so all I ask is constructive criticism. I will be removing and redoing it once I have time, but till then, don't be a discorded Fluttershy, thank you. Also, my laptop computer loves it when keys don't press; maybe I'll learn too as well.

and thank you Nebbie for the correct description
Sweetie, while trying to get something her sister was hiding from her, winds up causing a desaturase chain reaction, destroying her sister's work, ruining a very sentimental music box. And right in the middle of one of her sister's biggest orders for one of the most prestigious clients in Canterlot.
But maybe she won't be mad and she'll swallow her anger; what's the worst that could happen? Certainly, she wouldn't throw her out on the street.
("I'm really sorry it was real pret-" mph gulp! "?"
"I'm sorry darling but I don't have time for this" gulp "mmmm, marshmallows.")
Looks like she does swallow it along with the problem!
Triggers: Vore (non-fatal) and a terrible, half-baked story.
I would appreciate constructive criticism. This is inspired by Vore Belle the Rising. The story is only a startup; I am willing for plot suggestions for beginning and end scripts.
An update may include some racy and saucy content or, to put it simply, incest. This is a fetish fic, not a rape fic, so don't complain at me if you don't like incest, just don't read it.
Chapters (16)