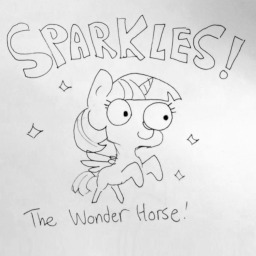 Source
This story is a sequel to Future Progressive: The Speedfics and Drabbles of Present Perfect
---
NEW: Be All That Yona Can Be (Comedy, Random, Crossover): Faced with a chance to be herself, Yona realizes her true destiny.
---
SEE BELOW FOR FULL TAGS AND SUMMARIES
Another repository for short, silly stories not worth polishing. Cover image by tjpones. Sparkles will save us all!
---
The Ueton Game (Adventure, Crossover, Dark): Twilight Sparkle invites Applejack to a special sleepover for just the two of them. But is her ghost story more than just fiction? (A crossover with The Binding of Isaac that doesn't require any foreknowledge.)
The Scope of Love (Adventure, Romance): Sea Wishes has become the new bearer of the Mantle of Pisces! Great! What does that mean? As she learns more about her new role in Equestria, she'll also have to deal with a dark secret, not to mention Aries...
A Step Backward (Random, Sad): Gilda does a thing? Look, I can't stand this story, I'm sure as hell not going to read back through it to figure out a summary.
Tartarus Control (Comedy, Random): Star Swirl the Bearded and Stygian, newly reunited, travel across the realm and discover this modern Equestria has a few changes they don't remember...
Bitter Disappointment: (Comedy, Random, Romance): After living through the worst breakup of ever, Starlight Glimmer finds an unexpected lesbian lover in Applejack. This story is rated 'T' for 'Too Stupid to Be Published on Its Own'.
Yer Outta Line, Sparkle! (Drama, Random): After the near disaster of the play starring Celestia, Twilight's friends have a few things to say to her.
Thank You, Nightmare Moon (Slice of Life): Princess Luna encounters an unexpected fan in Ponyville.
Starlight Fixes Dragonshy (Alternate version) [Comedy, Dark, Random]: Starlight Glimmer has gotten hold of the Friendship Journal and, using a time-travel spell, will go back and fix all the friendship problems herself, consequences be damned. An alternate version of my entry for season one of Starlight Fixes Everything.
And They Do Fusion Dances (Crossover): Twilight, her friends, and their little sisters experiment with pony fusion.
Two-Point-Five Essential Vitamins and/or Minerals (Comedy, Random): Two little ponies huddle in an abandoned factory. Death approaches. No one will save them. Or will they?
Chapters (11)