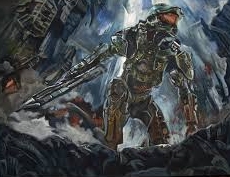 Twilight Sparkle is sure Princess Cadance is an impostor. And yet, no one believes her. Cast out from the wedding due to her accusations, she attempts to teleport to Ponyville for a breather, only for a magical misfire to cause a torrential Slipspace Rupture that sends her to the Forerunner world of Requiem...
Just as the Master Chief and the Forward Unto Dawn crash onto the world's surface. And thus begins a cataclysmic adventure for the young unicorn...from battling the Covenant and the newly-revived Prometheans to her own demons, will Twilight Sparkle stand strong and make it home in time to save everything she cares about?
And in Equestria, the real Cadance manages to expose the Changeling Queen, but will the ponies prevail without Twilight? And will Equestria survive?
Only time will tell. And the Requiem is already being composed...
====
Halo 4 crossover, set in Season 2. Will have swearing, gore, and Halo-esque imagery.
Chapters (3)