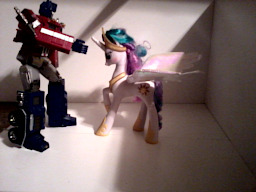 In every event, there are a million offshoots and effects, none really able to be fit into a normal narrative. Here is a collection of one-shots and mini-arcs spun out of The Elements of Harmony and the Savior of Worlds, so knowledge of that series will help immensely. Although I will do my best to make it as accessible as possible.
NOTE!:
All side-stories so far take place after the end of The Elements of Harmony and the Savior of Worlds.
The cast will be varied, as will be the stories, but all are canon.
Chapter One: A Picnic by the Lake: Celestia, Luna and Twilight entertain a guest who is more than meets the eye.
Chapter Two: Time Enough for All: The Doctor has spent nearly nine hundred years in Equestria, most it an extended vacation. But news of giants in Ponyville draw him out of semi-retirement.
Chapter Three: Contact Part One: Old Memories: Chip delivers the Princess' message to President Abernathy, which stirs old memories.
Chapter Four: Contact Part Two: Meetings and Greetings: Equestria makes formal contact with Earth, and an old mystery is finally put to rest.
Chapter Five: Family reunion Part One: The Best of intentions: Dinky sets out to reunite her father with his closest friends, roping her sister and the rest of the Cutie Mark Crusaders on a journey across time and space.
Chapter Six: Family Reunion Part Two: Memories: The TARDIS arrives at Earth, reuniting the Doctor with his past.
Chapter Seven: Shape up or Slaughter Out!: Shining Armor gets some help from an old warhorse to finish what he started with the Royal Guard.
Chapter Eight: How Christmas was Saved... Sort of: A short tale of how Santa Claus was saved one Christmas Or Megan had too much eggnog.
Trope page for The Elements of Harmony and the Savior of Worlds. Story listed there as well.
Equestria Daily page: A man can dream...
Chapters (13)