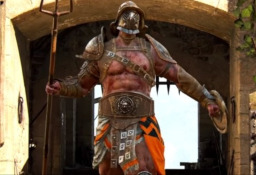 Source
Pictor Rubrum, he forgot his real name a long time ago. It's what the crowds called him and they adored him. It wasn't expected that anyone could defeat lions with a trident and a buckler, but he did it and earned their respect. Now he paints the sand below his feet red.
But, allies needed help and he was thrown into war with his trident and buckler, a very hard challenge for the gladiator. Shinobi, that's what they shouted when he saw the quick moving devil run past their line and towards their artillery hidden below the hill. He ran, and ran, getting hooked by his kusarigama and pulled me into some portal that opened up, he was sucked into it with me.
And he entered the ring again, with crowds roaring behind him filled with other beings.
A/N: I don't know much about Latin at all, so that Latin appears in English, other languages will appear as a description. This is a For Honor crossover and while the main viewpoint is the gladiator's, I may change to other's viewpoints.
Chapters (3)