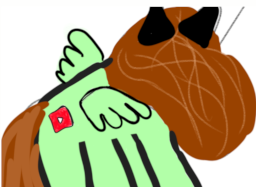 This a story based on my character Dark and I actually drew a pony version of my self via an app on my tablet.
Anyway: Dark was bored one day so she decided to play with space and time and stuff when she accidently entered a portal that took her to the mlp universe......
When she finally arrives in her all-time favourite cartoon show , she will now have to find a way back to her own world.
P.S. She is a pony
P.P.S. I talk in 3rd person in this description , so Dark is me ,to those who are confused.
Edit - This is more of a practise story to me and will most likely be cancelled, I won't delete it, though.
Chapters (5)