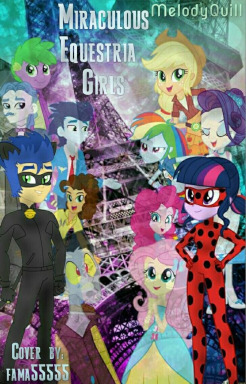 Source
When the Moth Miraculous gets misused again, the Ladybug and Black Cat are called to action once again. But this time, there are six called to each Miraculous.
Twilight Sparkle is a normal girl with a normal life, along with her best friends: Rainbow Dash, Applejack, Fluttershy, Pinkie Pie, and Rarity. But, when they find a pair of mysterious earrings and meet a Kwami named Tikki, they soon find themselves facing evil throughout their home city of Canterlot as the Ladybugs: Princess Ladybug, Swift Spot, Ladybug, Junebug, Lady Luck, and Coccinelle.
Flash Sentry and his own group of best friends: Soarin', Spike, Discord, Cheese Sandwich, and Fancy Pants, are normal guys as well, with their own problems to deal with. Until they all find a strange and peculiar ring and a Kwami named Plagg. With that ring, they can become the Black Cats: Black Knight, Shadow Racer, Cat Noir, Dark Lord, Cat Burglar, and Black Leopard, fighting crime alongside the Ladybugs.
On top of balancing school and superhero work, love squares appear between the Ladybugs and Black Cats, both as superheroes and civilians. The girls have crushes on the guys, but the guys are in love with the girls' alter egos, both as normal teenagers and as superheroes. Despite all of the love complications, they all have to work together to defeat their arch nemesis, Hawkmoth.
Ships featured: Flashlight, SoarinDash, AppleSpike, Fluttercord, Cheesepie, and Raripants.
New cover was made by a friend on mine on wattpad, fam5555.
Chapters (6)