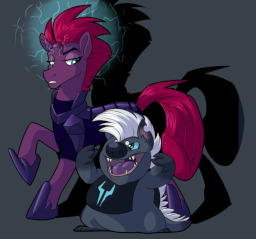 (WARNING: This takes place after the events of the MLP Movie; if haven't seen the movie yet and don't want anything to be spoiled, wait to read this story)
Following the recent defeat of the Storm King, Fizzlepop Berrytwist, formally know as the dreaded Tempest Shadow, has retired from her life of pillaging and plunder and has decided to find herself a place to stay amongst the peaceful ponies of Equestria. However the road to reform will be long and hard it seems, as ponies still continue to watch her with untrusting gazes.
She currently doesn't have a friend in the world, except per say, the Princess of Friendship and her friends... and perhaps one other.
Grubber, her second-in-command from when she was the Storm King's commander, hasn't left her side since she begun her reform. He had been doing everything for her while she had been trying to get back on her hooves. Cooking, cleaning, organizing their house, he had been the perfect description of what Princess Twilight Sparkle would call a "Number 1# assistant", and she was quick to take pride in this. Going so far as to praise him before her new friends...
...unfortunately, a certain little dragon was in earshot at the time.
Chapters (2)