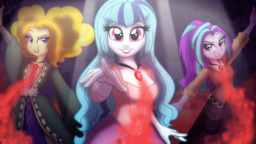 A Halloween short set in the Bridge/Amalgam'verse continuity family, however reading is not required.
(Just don't think too hard on when, tis just a short)
Their fates changed after their encounter with the kaiju and now back to normal, relatively speaking, life slowed down for the Dazzlings into the fall. The sirens more or less have adapted quick to the human realm, though holidays are often still beyond them. So when Halloween catches the youngest sea witch's eye, what's Sonata to do to try and get them into the spirit of things than layout the meaning of it all as she sees it?
Cover art by Faith-Wolff
Cover Art Link
Old cover art by EpsilonTLOSdark4
Original Picture Here
Chapters (1)