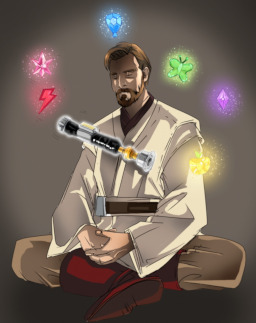 Source
While on his way back to Coruscant from a mission, Jedi Master Obi-Wan Kenobi is caught up in a strange phenomenon, a vortex that appears and sucks him into another dimension entirely.
Awakening, Obi-Wan finds himself in a land called Equestria on the planet Equis, surrounded by anthropomorphic ponies.
Will he be able to find a way back to his own dimension, and his responsibilities as General in the Clone War, or will he find a new destiny in the land of Equestria?
And if he does choose to stay, will the struggles and enemies of his past truly be behind him?
And what of new problems and potential threats that would seek to harm him and his new friends?
What is cetain however, is that the future of Equestria will surely be altered by the arrival of Obi-Wan Kenobi.
Crossover/AU starting in Season 1 of MLP.
And before Revenge of The Sith (during The Clone Wars)
(cover art by sandra-delaiglesia)
Chapters (2)