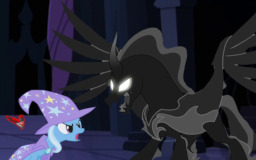 Trixie wasn't sure if it was when she purchased that artifact with her last bit, or when she found herself wandering into a ruined shrine in the woods that she first went astray, but astray she certainly had gone. And now she was standing under an alien sky, empty of Luna's moon, or Celestia's sun.
Trixie was afraid that if she was not the guest of this dark and monstrous lord, she would find herself something much, much worse.
So it it was showtime. Time to earn her keep, her welcome. Because she'd rather be a guest to lunch, than the first course at dinner.
Though she might not want to admit it, it had been too long since she had a captive audience.
And who could be more captive than a Lord of Shadows entombed in a half-tartarus doom-world?
Chapters (9)