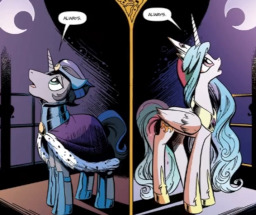 Source
The mirror to the world of CHS was not the only mirror portal. It was just one of many, including one to an alternate Equestria.
Celestia once made a trip in the interest of knowledge and learned something not quite what she thought she would.
And the cost was heartache.
Shipping: Celestia x Alternate Universe Sombra
A gift for Lotus Moon.
Hit popular stories 10/27/17
Chapters (1)