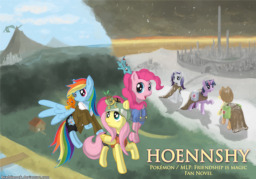 After an ancient spell from Twilight goes awry, Fluttershy finds herself in a new world of powerful creatures. Whilst Fluttershy struggles in the new found world, Twilight is forced to leave Equestria to find the spell to bring her back. As Twilight and her friends journey through the outer lands of Equestria, Fluttershy attempts to uncover what shadows lurk just beyond Hoenn's sight.
Contains slightly dark images and scenarios. All events are based off of season one continuity, speculation and fantastical story elements. Any conflicting canon after season one is a result of the story being created before the premiere of season two.
Written to accommodate for people unfamiliar with both 'My Little Pony: Friendship is Magic' and 'Pokémon'.
Pre-read by Lam, Tom IWearHatsIndoors and lordelliot. Edited by Lam and lordelliot. Story consulting by Flak.
Equestria Daily: http://www.equestriadaily.com/2011/06/story-hoennshy.html
Chapters (18)