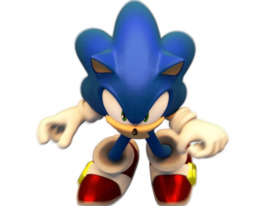 Source
After freeing Möbius from the clutches of the evil Dr.Eggman and defeating his ultimate creation named Infinite a few weeks ago as a long time of healing and rebuilding occurred. Sonic and his friends returned to their normal lives which was basically was stopping Eggman from getting all 7 Chaos Emeralds to rule the world. But when Eggman cooks up a nastier plan than he had before when he had Infinite was to use the Chaos Emeralds to power a new superweapon. As usual Sonic and his friends were there to stop him and his robots, but unknown to them a new evil in a another dimension was making itself known in the Pokémon World called the UFFA along a reborn Team Rocket. After hearing the pleads of many innocent Pokémon calling for help and accepting need of help from Arceus. Chaos and Tikal used the power of the Chaos Emeralds along with the Master Emerald to transport Sonic and his friends to our world along with Eggman and his lackies. But it has a huge effect on the planet as our world fuses with Equestria and the Pokémon World making it bigger than what it was before!
Now Sonic and his friends must unite and make new allies with our favorite ponies and stallions including the Main 6 and Spike and along with Ash and his friends including our world's military. They are going to take Team Rocket and the UFFA down, stop an alien invasion that was prevented a thousand years ago by the original Latios and Latias, and restore the balance between humans and Pokémon as the battle for Earth's future begins.
Sonic's biggest fight is about to begin! So get ready for explosive sonic action and hard core adventure.
Takes place after the 2017 MLP movie and Sonic Forces.
Sonic The Hedgehog is owned by Sega.
MLPFIM and MLP the Movie is owned by Hasbro.
Pokémon is owned by Nintendo.
Finally Pokémon Heroes: Uprising is owned by Fanfiction user Soldier of the Future.
All Sonic Characters Have their Sonic X voices.
Chapters (1)