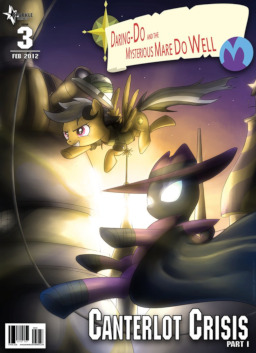 ~ After many months of lost time and anxious readers...The story MUST...go on...
When Prince Blueblood is kidnapped and the University Dean is left for dead, Daring Do vows revenge against the killer. However, when she is sent incognito to the headquarters of a possible conspirator, she realizes it is all a part of something much deeper than petty ransom. She later crosses paths with the shadowy Mysterious Mare-Do-Well and together they will band to fight against a great threat that will affect not only the capital, but perhaps Equestria, and even the entire world...
Special thanks to my proofreader, Blaster Master and his keen eye.
Special thanks to fongsaunder for his cover image. If not for this awesome piece of art, this fan fic would not have been. (http://fongsaunder.deviantart.com/)
Chapters (16)