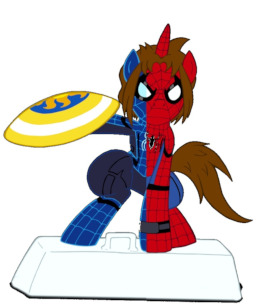 An AU (of something that's already an AU) set after the original Spiders and Magic IV.
It was supposed to be an average day in Equestria. Peter Parker, the hero formerly known as Spider-Mane, and Princess Twilight could take pleasure in the fact that the war against Discord and the Sinister Six was over, and they could move on with their lives as a family.
In another world, newly-weds Sir Peter Parker, the regal Spider-Knight, and Princess Luna were enjoying their lives as a couple. With recent alicorn Sunset Shimmer joining them on various diplomatic missions across Equestria. Everything had been going right for them as of late.
However, a powerful being called the Grandmaster figures out where Spider-Man wound up and decided to have a little fun. He summoned the heroes from each world to compete in a tournament with fellow Elder of the Universe, the Collector, who wants nothing to do with his 'brother's' game.
How will the denizens of these two worlds react? Who will win the tournament? And fate will befall these different worlds?
---
Spiders and Magic series by Maximus- Reborn.
Chapters (1)