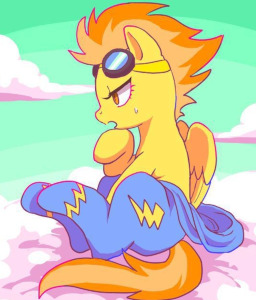 What would it be like?
Spitfire has asked herself that question for years. From her upbringing to her graduation—and even her rise through the ranks of the Wonderbolts—a desire for change has always loomed in her heart, no matter how she might have suppressed it.
Now, with her strongest aspiration beginning to resurface, she's starting to remember why she wanted to make music in the first place: The world she lives in, the company she works for, the system she was born into, none of it is right, none of it should be the way it is. Could her music truly change that?
With a little help, Spitfire will come to realise that change is possible.
---
I cannot thank Ceffyl Dwr enough for the level of work he has put into pre-reading this story, offering suggestions, discussing and debating various details with me and generally helping me make this into something presentable. I'm immensely grateful.
Chapters (3)