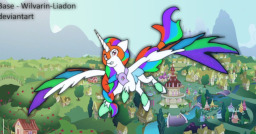 A long time ago they were four warriors that fought off evil with the power of the elements of nature. They fought Erebus and two sacrificed their lives to save Equestria.
A thousand years later Erebus returns and has his eyes on the elements of harmony and their bearers.
So Aura, Gaea, Amphitrite and Hestia hand their powers down to the young pegasus mare Rainbow Dash and she will become Iris, spirit of the elements of nature.
But with having to deal with being the new wonderbolt, a curious alicorn close to revealing her identity, three noisy fillies almost getting killed, lying to friends, having a crush on a certain wonderbolt and being Equestria's new hero it ain't going to be easy.
Art work by Oceania Featherthorn.
Chapters (2)