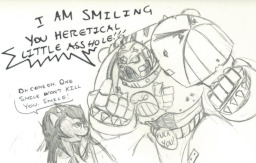 Ninth Captain Fubar Jac'ass is a very good Angry Marine, he shouts his profanities, he kills the enemies of his Emprah real good, and he don't take no shit from no thrice damned Ultrasmurf. So why in the name of Terra has he been assigned to aid a little purple xeno Inquisitor that keeps having him do the most mundane things? And why does he keep going along with them, something here isn't right. And it's making him extremely angry.
-----------------------------------------------
I don't own the title art, Warhammer 40k, or My Little Pony Frindship is Magic. Rated teen for lots of angry profanity and potential for bloody happenings.
Chapters (9)