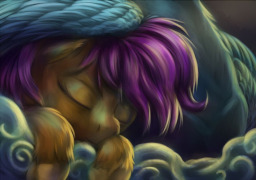 Source
I'm a pegasus and I can't fly.
It wasn't always like this. When I was younger, it only mattered as much as I let it. Now it's like the whole world is out to get me.
I'll just have to try harder. I just have to try... and try again.
---
An experimental entry in the Fall 2017 CuddleFic Contest.
Pre-read by B_25.
Edited by The Abyss and Dreams of Ponies.
Cover art by viwrastupr on Deviantart.
Featured: 11/19/17 - 11/20/17.
Chapters (1)