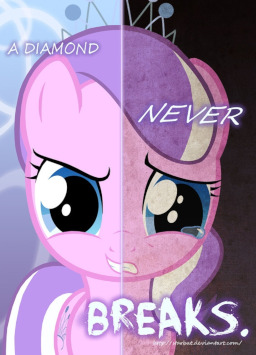 Source
This story is a sequel to My Little Pony, Friendship is Magic: Tales From The Stallion Six
---
(This fic takes place in the same universe as My Little Pony, Friendship is Magic: Stallion Edition, and it is highly recommended you read at least the first twelve chapters of that, and also My Little Pony, Friendship is Magic: Tales From The Stallion Six, in order to better understand the universe of this fic. Takes place after chapter 110 of "Stallion Edition".)
For years, the Cutie Mark Crusaders have known Diamond Tiara only as a bully. A rich filly who seems to think that a cutie mark makes her superior to everypony else, and looks down on blank flanks.
But that perception is changed forever when the Crusaders successfully unseat Diamond from her position of student pony president. All of a sudden, they learn that Diamond's home life is far more complicated, and there's more to the filly than they would've assumed.
With this startling revelation, the four blank flanks find themselves aiding their once sworn enemy in the most unexpected of ways. But can they actually inspire Diamond Tiara to change for the better, or are they only making a bad situation worse?
Chapters (7)