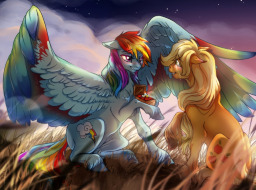 Rainbow Dash and Applejack are going on two years in their relationship, and on their anniversary Dash decides to take them to the bar where they first turned from friends into lovers. As they both briefly reminisce about the past, however, Dash is also silently panicking about her real reason for them coming to the bar- a reason involving a black box and the band onstage...
A short AppleDash oneshot based off of Thomas Rhett's song, "Unforgettable". WARNING: Possible OOC main characters, OC character, and AppleDash all incoming.
Takes place in an alternate future after Rainbow Rocks. All characters are at least 19.
Chapters (1)