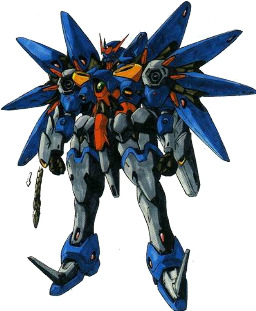 Source
While walking through the Crystal Palace one day, Shining Armor somehow after tripping and falling into the Magic Mirror Portal ends up in another whole universe called the After Colony that has now mushroomed into a war between the group Romefeller Foundation and those who dare oppose them (taking place mid-way through Gundam Wing) and gets caught up in a battle where he is saved by a mysterious human named Heero Yuy piloting the XXXG-01W Wing Gundam.
At the same time during the same said battle, a man by the name of Trieze Khusrenada calls the two over to his mansion that he is currently under house arrest due to his stance against the Romefeller Foundation's usage of the unmanned machines called Mobile Dolls for mysterious reasoning.
There after filling in the details from his view of where Shining Armor is now at, he offers the two soldiers each a Gundam; Heero receives the OZ-13MS Epyon Gundam while Shining Armor is for some reason given the OZ-14MS Aquarius Gundam that was built at the same time as the Epyon Gundam.
When asked why he would be entrusted with a weapon like Aquarius despite having neither meeting the man nor piloting a mobile suit let alone a Gundam, Treize's response is this:
"Regretfully, there wasn't much of a choice for a future for me...use this and it'll show you a way back to your home..."
With that given answer, Shining Armor is thrown into the conflict of the After Colony Era and things will change forever...
*(Note: The Aquarius Gundam will have a copy of the ZERO System like the Wing Zero and Epyon Gundams)*
*(Note 2: Takes place shortly after Equestria Girls meaning Flurry Heart hasn't been born yet)*
*(Note 3: The Violence warning tag is for war scenes and such associated with any Gundam series)*
Chapters (2)