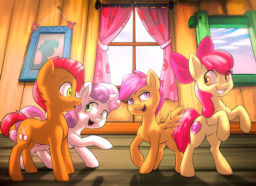 Spaghetti and Fillies is a multi-chapter work that began in the RGRE general of /mlp/ and has since begun to be remolded for the fine folks on FimFiction. While the story continues over several 'episodes' where the focus changes slightly and more characters are added, the overarching theme and tone remain the same: a lighthearted story in which a troubled farm-filly emerging into adolescence deals with the problems and societal pressures associated with such a time. In true /mlp/ fashion, many of her triumphs and failures will center around the human character Anonymous, as well as the various other RGRE counterparts for characters present in the show.
Though there isn't and likely never will be any real sexual content in this story, there will be allusions, crass language, and much, much spaghetti spraying - the latter of which only gets worse as the story goes on.
You have been warned.
---
This story takes place in an AU called RGRE (Reversed Gender Role Equestria). If you're unsure of what that means, there's a group on fimfic that catalogues stories like these that might explain it best. If you're interested in content with a similar setting, consider joining it and looking around.
Chapters (4)