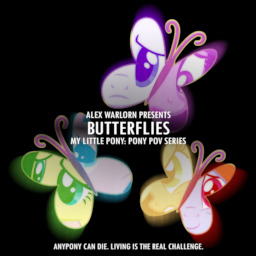 Dark
Sad
Slice of Life
---
Discord beaten. Reality restored. But invisible wounds must heal too. Time for butterflies to spread their wings. Dying is easy. Living the real challenge. After the dust settles it's time to LIVE.
Season three of the Pony POV Series is here on FIM.
Take a look at the citizens of Ponyville one by one as their decisions effect not only themselves, but each other.
Laughter, tears, smiles, actions, adventure, frights, darkness and light and heart-warmings ALL await you!
The Audio adaption Is here: http://www.youtube.com/watch?v=0GqJMx6kYyU&list=PLABD0AEFCD46D56DA&feature=plcp
ORIGINAL fan-art, ORIGINAL fan-music and VOICE ACTORS galore await!
I promise this will be one ride that will not disappoint.
Recursive fanart and fan stories are here. http://alexwarlorn.deviantart.com/journal/MLP-FiM-Pony-POV-Series-Fanworks-audio-adaption-274110361 Many are rubber stamped by me as optional canon stories that reveal some of other sides of these stories.
Tropes page found here. http://tvtropes.org/pmwiki/pmwiki.php/FanFic/PonyPOVSeries