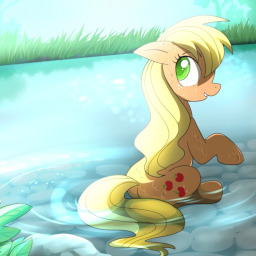 Rainbow Dash really likes kissing Applejack. When things go a little bit beyond kissing, though, the relationship between the two mares gets difficult in all kinds of ways. But Applejack knows that marefriends talk to each other, and she's sure that somehow everything will work out in the end.
This story earns its T rating. It is not a clop fic, but expect to find frank discussion of sexual matters within.
Written for the 5th Appledash contest. Edited (and practically re-written) by the amazing Jordanis, with additional editing assistance from Cyanhyde.
Cover art by CSImadmax.
Chapters (1)