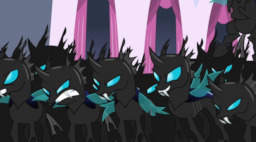 A changeling civil-war has broken out. Chrysalis and her "Changeling Empirium" have waged an armed conflict upon King Thorax's "New Changeling Kingdoms". While having lower numbers than the forces of Thorax's Military, the unreformed have shown utter ruthlessness against the so-called "traitors of her Majesty".
The war, being pushed into bitter winter, has caused fighting to become even more aggressive, with the cold blizzards only fueling the hatred between the two sides.
Both sides have shown to have different ways of dealing with things, whether it be attitude, training, feelings towards the enemy, and many more things to count.
But one thing stays the same, which is the will to surrender.
After receiving word of eight unreformed changelings being captured at the front, King Thorax decides to meet the POW's in person, along with one of his pony companions. Believing this will give himself a better understanding on why the changelings are still loyal to Chrysalis, he is prepared to ask - and answer - any questions placed upon the table, both from his side and theirs.
Chapters (1)