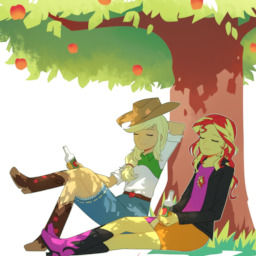 Source
Sunset is a one-girl wrecking ball when it comes to romance. She's already been through three of her friends, and she'll not to let her pony needs get ahead of her again. But her eye's already roaming, and Applejack has invited her to spend a day on the farm. Alone. For some secret purpose.
It's okay. All Sunset has to do is keep reminding herself that it's not what she wants. Everything's fine.
She won't make the same mistake again.
---
Set between Equestria Girls and Rainbow Rocks.
When I react poorly to shipfics, it's often because I forget there are two ways to approach romance; this is a story that uses the adult approach without forgetting what makes young love so exciting in the first place. Really excellent stuff. — PresentPerfect
Honorable Mention in Oroboro's Sunset Shipping Contest: Changing Seasons!
Cover art belongs to MagneticSkye. Tried to get permission, but it appears the artist disappeared around a year ago. If she complains, I'll change it.
Chapters (1)