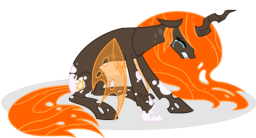 A great many ponies made a great many mistakes leading up to the Canterlot Wedding.
Their biggest was assuming Cadance was the only target.
The Canterlot Wedding was two weeks ago. Celestia has not been seen in public since. She has a secret--something dark and terrible--something that could bring down all of Equestria.
Celestia is Changing. And only Twilight and Rarity can help...
Rated Teen for some (very) mild language.
Written as a comission swap for DJohnson22.
Cover art and edits by Angie.
Chapters (12)