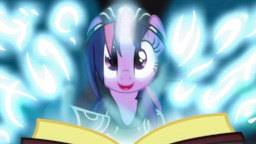 Source
After Starlight Glimmer's misadventure beyond the Magic Mirror, Twilight Sparkle creates an artifact that will allow its wearer to travel between planes of existence without allowing excess magic to leak from one world to another and upsetting the delicate balance of worlds.
In doing so, however, she soon discovers more about herself and the spark that awakened the Element of Magic than she could have ever anticipated, and learns of a secret that Celestia had been keeping from her all her life.
Stranded in the world-spanning city of Ravnica, Twilight Sparkle must now seek to understand herself and the strange new plane of existence she's found herself in, and come to terms with her own role in Equestria and the Multiverse.
A Magic: the Gathering crossover. Cover art by Beavernator on DeviantArt.
Chapters (17)