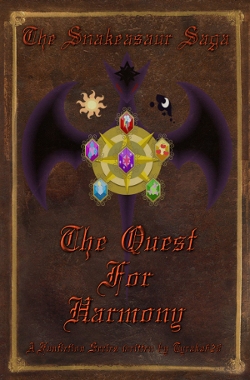 It is the dawn of Nightmare's Moon return: Twilight and her new friends are marching to the Ancient Castle of the Two Sisters and the elements of harmony await their arrival. And with the awakening of the elements, a new era will begin: an era where strife, chaos, and disharmony will reign as every form of evil and darkness from ancient times and new threaten Equestria once more.
And despite her best actions, Celestia is still unsure of victory. Desperate for her sister's return and the future of her kingdom, she pleas to the Tree of Harmony itself for help. For something to protect her ponies during this era.
And to everyone's surprise, the tree grants her wish, and summons a champion from another realm: a mighty, battle-ready purple dragon with incredible power and a taste for adventure. And through his arrival the world has entered a new age; an age where the corruption and imbalance of this world, caused either by chaotic evils or ponies themselves, will be cleansed in Dragon Fire. In order to see ponykind through, Twilight and her friends will need to learn all they can in both the magic of friendship and the power of dragons to join in the adventure to reshape their world.
The New Age of Dragons has begun.
-
TV Tropes Page (Yay! I actually got one!): https://tvtropes.org/pmwiki/pmwiki.php/FanFic/TheSagaOfSpyroQuestForHarmony
-
(This is an official crossover, NOT a Displaced Story! No 'Comic-Con/Merchant' stuff here!)
(Dragon-ish Spyro: a personal version written by myself! No pony transformations!)
(List of Times Featured on Front Page:
10/10/2017, 11/19/2017, 02/04/2018, 03/18/2018, 8/28/2018, 12/03/2018, 01/12/2019)
Chapters (24)