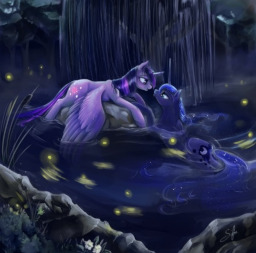 Source
This story now has a sequel! You can check it out here: In the Twilight Sky: Eternal Stars
---
Twilight loved Flash Sentry with all her heart. But now, several decades later, he's dead. Though her friends and brother still continue to live in their old age, her life has not been without heavy losses. However, this one hit her harder than the others. With so many ponies she cares about being so close to the end, she feels lost.
But there are still ponies that understand exactly how she's feeling. Luna tracks Twilight down to a small pond, where she is isolating herself from the rest of Equestria. What follows is a gentle heart-to-heart between two immortals that now feel alone in the world.
---
Edited by Shadowghostalex.
Chapters (1)