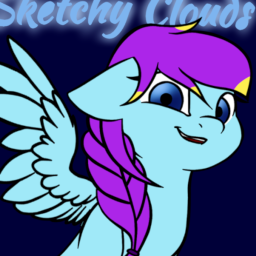 Glassy Amber, unicorn mare, married to Bally Hoops, pegasus stallion.
Mother and father of Curly Emerald, unicorn, Basket Coco, unicorn, and their newly birthed foal, Sketchy Clouds, pegasus.
'Everyone would say that I can't do it, saying I couldn't do the impossible. I was just I mere "blank flank". Yet I tried, several times. And look where it got me. This is the journal, of Sketchy Clouds.' -Sketchy Clouds.
* * *
Cover Art by Multiversecruise.
Additional tags: Fluttershy
PLEASE UPVOTE AND COMMENT!
Chapters (2)