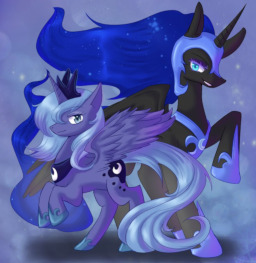 Source
Crossover
Human
---
Harry Potter was a lonely boy who one day wished for a friend. Luna, trapped on the moon, wished for the same. And so their wishes are granted. How will the two deal with each other? And what about Nightmare Moon? Needless to say, their lives are going to change in both expected and unexpected ways...
Other stories in the Lonelyverse:
Hooves, Plush, and Magic: The Untold Tales
The Wizard and the Lonely Princess: Hallowe'en Special
Chapters 9-11 now re-written.