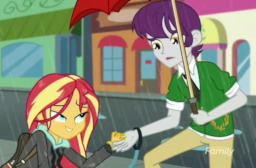 Sunset Shimmer is running late on Monday morning, and after she meets Indigo Wreath, she is even later. But maybe missing first period is worth it if it means hanging out with a cute boy.
---
Disclaimers:
Based off the EqG short song "Monday Blues". Technically "Alternate Universe" as a result.
The title may be based off of "When Harry Met Sally" but I've never seen that and it was the first thing that popped into my mind. The two are in no way related.
This is a silly ship that I don't actually support, but I felt the need to write this. Also, it's always nice to let background characters have a story for themselves.
This is less meta than I intended it to be.
Chapters (1)