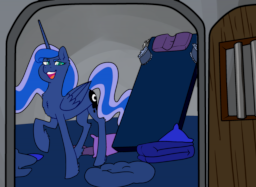 This story is a sequel to Cuddle Time...Again!
---
The Canterlot Castle's dungeon is renowned for being the highest-security jail in all of Equestria (after Tartarus, of course). Little do ponies know, but the most dangerous, unpredictable, and crafty criminals are held in an entirely different floor, directly under the watchful eye of Princess Luna.
Luna ALWAYS extracts the information she needs from those held in her secret Cuddle Dungeon. And if they refuse to cooperate, well, she'll just suffocate them in her chest floof until they fold like a house of cards.
Inspired by a few brief lines in my story Cuddle Time...Again!
Beautiful cover art by probablydnon on Tumblr (no link; Blog is NSFW).
"deliciously and hilariously silly..." - LightningDashes
EDIT: Featured 8/15/17! Thank you all so much!
EDIT 2: Featured at #1 8/15/17! I am so glad everypony enjoyed!
EDIT 3: Now with an Audio Drama set up by the illustrious TheWingman!
Chapters (8)