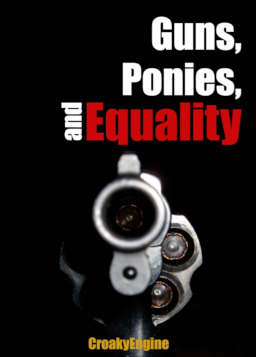 Two hundred years before the reunification of the three pony tribes, it was a curse to be born an Earth Pony. The Unicorn nobility ruthlessly taxes and subjugate them, while Pegasus marauders mercilessly raid towns and villages under the 'protection' of Pegasopolis. However, when a mysterious creature wielding ungodly powers saves a village from a Pegasus raid, the Earth Ponies finally see a way to break free of the vicious cycle and earn their freedom and equality.
Else where, a young man finds himself cast into a foreign world after an encounter with the spirit of chaos, armed with nothing but his newly bought handgun along with two magazines' worth of ammunition. However, he realized that the world he found himself in is far more complicated than he could ever imagine and that he must act to help the oppressed or forever live with a guilty conscience.
---
An experimental story trying to train my pacing a little, and hoping to create a HiE story with a more meaningful theme than just 'Find Mane 6 and live in Ponyville'. Big thanks to Garzeel_ for prereading! Hope you guys enjoy it!

Warning: contains a fair amount of swearing.
Edit: Featured 4/08/17! Thank you all very much!

Chapters (3)