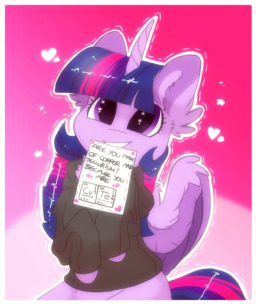 Source
Twilight loves Rainbow Dash, and she plans to tell her as such in a typical Twilight fashion — through the wonder of science. But when Rainbow Dash doesn't react in the way she was expecting, it leaves her feeling heartbroken; it then falls to Starlight Glimmer to pick up the pieces, as well as make Dash realise the truth.
AUTHOR'S NOTES
I know the whole 'copper and tellurium' joke has been done to death, but I wanted to do my own take on it. And then there's the fact I've never actually written any TwiDash before, despite constantly going on about how I think it is the best ship.
So, I decided to rectify that.
Cover by HiccupsDoesArt; used with permission.
Chapters (1)