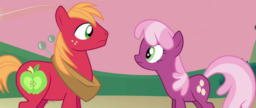 Source
(Takes place after "Hard To Say Anything", proofread by Smity1038 on Deviant Art.)
Cheerilee always thought she had something special with Big Macintosh, at least ever since that love poison fiasco a few Hearts and Hooves Days ago. But when word seeps out that Big Mac has found a new romantic partner in form of a baker named Sugar Belle, Cheerilee is devastated.
Struggling to come to terms with this revelation, Cheerilee tries to convince herself that this development is for the best. But then she's suddenly surprised when Big Mac shows up after school, in order to confess something rather important to her.
But is the confession what Cheerilee thinks it is?
Now has a dramatic reading, which can be viewed here.
Chapters (1)