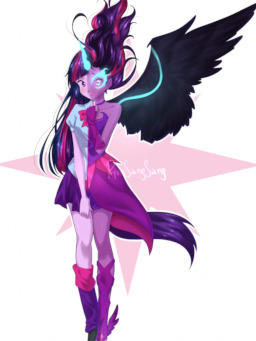 Twilight has an imaginary girlfriend!
Well, she has girlfriend that only existst in her head, but those are close enough.
But could you imagine if her friends found out? Wouldn't that be a pickle.
Guess she'll have to keep things quiet.
If only the voice in her head would remember that.
Set before Camp Everfree and completely disregards what happens in it, because I started writing it before then and forgot to upload it. Direct all praise to chuck-vic-norris who somehow manages to turn my the typo-filled mess into something somewhat tolerable.
AND BRAND NEW COVER ART BY THE BRILLIANT PYONSANGSANG *perfection*
Chapters (6)